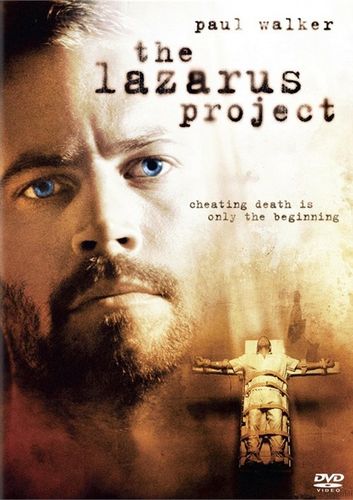 https://www.cineteka.com/index.php?op=Movie&id=004196
Ben Newman quer construir uma vida nova em Dallas com a sua mulher e filha, mas a sociedade não perdoa os seus crimes e acaba por ser despedido, quando a empresa em que trabalha descobre que Ben já cumpriu pena.
Sem opções, Ben acaba por aceitar realizar um golpe com o irmão, mas tudo corre mal e o seu irmão e um guarda acabam mortos, Ben é preso, condenado à injecção letal e executado, mas, neste caso, o fim é apenas o principio.

A harrowing and frightening thriller about a man who has everything he's ever loved stripped away from him; and to earn his life and family back, he must face obstacles of mystical origins, endure countless tests of his faith, struggle with his own sanity, and explore the depth and the power of his soul..
imdb.com
The Lazarus Project (2008)



Sinopse:
A former criminal is drawn into a criminal endeavor and subsequently finds himself living an inexplicable new life working at a psychiatric facility.
Pontuação:
6.2
Duração:
100 minutos
Idioma:
English
Realizador:
John Glenn
Actores:
Paul Walker, Piper Perabo, Brooklynn Proulx, Bob Gunton, Lambert Wilson
Fonte:
http://www.imdb.com/title/tt0464041
Última Actualização:
Segunda Março 12, 2018 10:01
Original title: The Lazarus Project

Country: USA | Canada | UK

Year: 2008

Director: John Glenn (as John Patrick Glenn)

Writers: John Glenn (screenplay) (as John Patrick Glenn), Evan Astrowsky (story)

Stars: Paul Walker, Piper Perabo, Brooklynn Proulx, Bob Gunton, Lambert Wilson, Linda Cardellini

Genres: Drama | Mystery | Thriller

Color: Color

Video: MPEG-2 720x576 (PAL 625/50) (16:9)

Audio: English, French, Italian, Spanish (Dolby AC-3)

Subpitures: Arabic, Dansk, Dutch, English, French, Hindi, Icelandic, Italian, Norsk, Portuguese, Spanish, Svenska

Format: DVD9
ed2k:
The Lazarus Project.iso [7.80 Gb]
ed2k:
The Lazarus Project.mds [8.2 Kb]