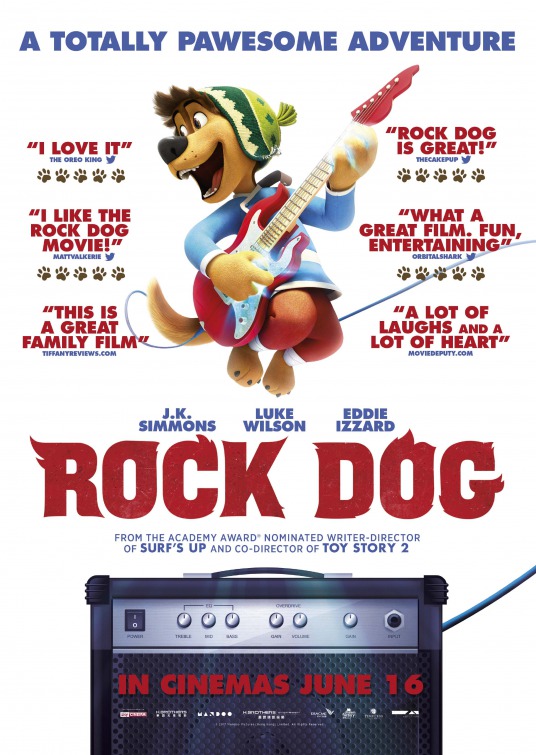 Bodi, um Mastim tibetano de olhos arregalados, deverá se tornar o próximo guarda da aldeia para proteger um grupo de encantadoras ovelhas, mas ele tem medo de não conseguir assumir o lugar de seu pai, Khampa.
Tudo muda quando um rádio literalmente cai do céu e Bodi ouve uma música da lenda do rock Angus Scattergood, e abre seu coração para um mundo musical que ele decide explorar.
Ao deixar o lar na aldeia para perseguir seu destino na cidade grande, Bodi atrai a atenção de Linnux, líder de um grupo de lobos famintos, que acredita que Bodi será seu bilhete de volta para conseguir entrar na aldeia e capturar as ovelhas. Cabe a Bodi salvar sua família e amigos sem renunciar ao seu sonho recém-descoberto.

imdb.com
Rock Dog (2016)



Sinopse:
When a radio falls from the sky into the hands of a wide-eyed Tibetan Mastiff, he leaves home to fulfill his dream of becoming a musician, setting into motion a series of completely unexpected events.
Pontuação:
5.8
Duração:
90 minutos
Idioma:
English
Realizador:
Ash Brannon
Actores:
Luke Wilson, Eddie Izzard, J.K. Simmons, Lewis Black, Kenan Thompson
Fonte:
http://www.imdb.com/title/tt2822672
Última Actualização:
Segunda Março 12, 2018 09:44
Áudio
Português; Inglês 5.1
Duração
86 Minutos
Extras
Making of da Versão Portuguesa
Trailer
Formato Vídeo
Widescreen 1.85:1 anamórfico 16:9
Legendas
Português
Formato
DVD
Ano
2017
Região
Zona 2 - PAL
Source :
Original
Genero :
Infantil-Animação
Encoder :
vmf012
Titulo :
Rock Dog - Um Sonho Altamente!
Titulo Original :
Rock Dog
Ano de Lançamento Original :
2016
Tamanho do ficheiro :
4,92 GB
CAPA
Código: Selecionar todos
https://picload.org/image/rpagrdri/digitalizados15-06-201708-152.jpg
CAST:
Rui Unas
Maya Booth
Realizador(es)
Ash Brannon
Editor
Prisvideo
ed2k:
Rock.Dog.2016.PAL.DVD9-vmf012.iso [4.92 Gb]
ed2k:
Rock.Dog.2016.PAL.DVD9-vmf012.mds [8.2 Kb]