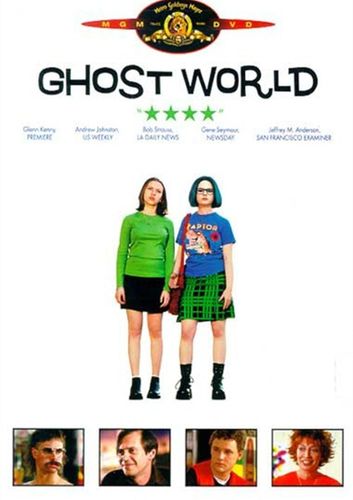 https://www.cineteka.com/index.php?op=M ... host+world
Baseado nos famosos livros de Daniel Clowes, esta é uma incursão em registo de comédia mas de intenso realismo, na vida de alguns desadaptados da sociedade. A história de duas amigas em vias de entrar no mundo dos adultos. Desiludidas com a hipocrisia e palermice da sociedade em geral e da que as rodeia em particular, Enid e Rebecca resolvem arranjar um trabalho e não prosseguir com os estudos. Entretanto, Enid desenvolve uma estranha e complexa relação com Seymor (Steve Buscemi), um coleccionador de discos de vivil. Mas, para além do aparente esfriamento da amizade com Rebecca, pouco parece mudar na vida de Enid. Quando é que ela irá decidir ter uma vida própria?

With only the plan of moving in together after high school, two unusually devious friends seek direction in life. As a mere gag, they respond to a man's newspaper ad for a date, only to find it will greatly complicate their lives.
imdb.com
Ghost World (2001)



Sinopse:
With only the plan of moving in together after high school, two unusually devious friends seek direction in life. As a mere gag, they respond to a man's newspaper ad for a date, only to find it will greatly complicate their lives.
Pontuação:
7.4
Duração:
111 minutos
Idioma:
English
Realizador:
Terry Zwigoff
Actores:
Thora Birch, Scarlett Johansson, Steve Buscemi, Brad Renfro, Illeana Douglas
Fonte:
http://www.imdb.com/title/tt0162346
Última Actualização:
Segunda Março 12, 2018 06:04
Original title: Ghost world

Country: USA | UK | Germany

Year: 2001

Director: Terry Zwigoff

Writers: Daniel Clowes (comic book), Daniel Clowes

Stars: Steve Buscemi, Thora Birch, Scarlett Johansson, Brad Renfro, Illeana Douglas

Genres: Comedy | Drama

Video: MPEG-2 720x576 (PAL 625/50) (16:9)

Audio: English, Spanish (Dolby AC-3)

Subtitles: English, French, Italian, Portuguese, Spanish

Format: DVD9
ed2k:
Ghost World.iso [7.03 Gb]
ed2k:
Ghost World.mds [8.2 Kb]