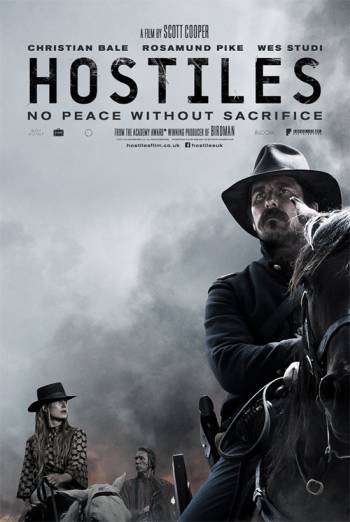 Sinopse
Em finais do século XIX, um capitão do exército americano, um índio Cheyenne e uma jovem viúva submetem-se a provações diversas enquanto procuram atravessar território hostil, entre os estados do Novo México e Montana...

1892. Um lendário capitão do exército americano aceita relutantemente escoltar um chefe de guerra Cheyenne moribundo, assim como a sua família, na viagem de regresso às suas terras tribais. Fazendo a perigosa travessia do Novo México até às planícies do Montana, os antigos inimigos encontram uma jovem viúva, cuja família foi assassinada. Juntos, eles terão de unir forças para sobreviverem às provações da tortuosa paisagem, a comanches hostis, e outros contratempos que vão encontrando pelo caminho.

We are all... Hostiles.

Set in 1892, HOSTILES tells the story of a legendary Army captain (Christian Bale) who, after stern resistance, reluctantly agrees to escort a dying Cheyenne war chief (Wes Studi) and his family back to tribal lands. Making the harrowing and perilous journey from Fort Berringer, an isolated Army outpost in New Mexico, to the grasslands of Montana, the former rivals encounter a young widow (Rosamund Pike) whose family was murdered on the plains. Together, they must join to overcome the punishing landscape, hostile Comanche, and vicious outliers that they encounter along the way.
..:: Cast ::..
Christian Bale, Scott Shepherd, Rosamund Pike, Ava Cooper, Stella Cooper
..:: Info ::..
Director:
Scott Cooper
Year:
2017
Genre:
Adventure, Drama, Western
Runtime:
134 min.
Aspect Ratio:
Widescreen 2.35:1 ; PAL
Audio:
DD5.1:
English
Subtitles:
Portuguese
Video:
Untouched
Menus:
Yes
Special Features:
Yes
Used Software:
AnyDVD HD + ImgBurn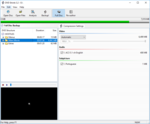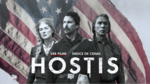 ..:: DVD Full / 1:1 Copy ::..
ed2k:
Hostiles.(2017).DVD9.PAL-mcb72.ISO [6.86 Gb]
ed2k:
Hostiles.(2017).DVD9.PAL-mcb72.MDS [8.2 Kb]